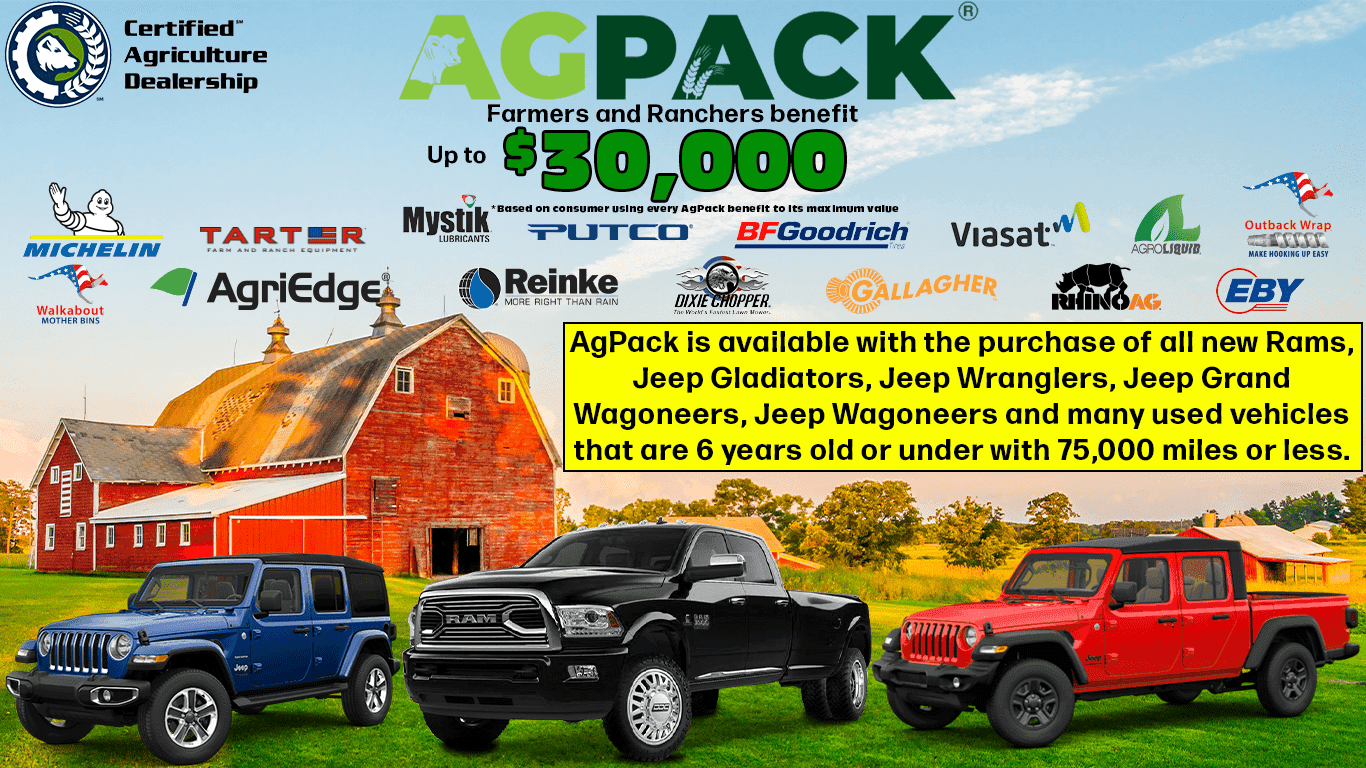 Posner Park Chrysler Dodge Jeep Ram FIAT is proud to be a Certified Agriculture Dealer in the Orlando area!
Posner Park Chrysler Dodge Jeep RAM FIAT has a devoted, certified Sales & Service Team, trained to meet the commercial vehicle needs of our local farming and ranching communities. Whether that is a Jeep Wrangler or Jeep Gladiator, Ram 1500, a Ram Heavy Duty, a Ram 3500, 4500 or 5500 Cab Chassis, or a Ram ProMaster Van, we know trucks and we mean business! We have the greatest selection of upfits for any commercial need and at the best price. Give us a call – we are here to support you!
We recognizes that the agricultural industry is not a 9 to 5 job. In addition to becoming a Certified Agriculture Dealership we also offer BusinessLink, a no-cost program designed to save you time & money, keeping you on the road (and in your fields!) BusinessLink benefits include: Available Local Shuttle Service, Next Bay Service, Courtesy Vehicles, Financing Expertise, Upfitter Connections, and 24 Hour Towing Assistance.
More information about BusinessLink
As an established Certified Agriculture Dealership, we can offer you exclusive benefits with our AgPack. The AgPack is a powerful package of farm and ranch management tools worth $1,000's. We are one of very few dealerships offering ag-friendly financing from one of the nation's largest agricultural lenders. AgPack is FREE & available on all new Ram's, Jeep Gladiators, Jeep Wranglers, Jeep Grand Wagoneers, Jeep Wagoneers, Dodge Durangos and many used vehicles that are less than 6 years old or have less than 75,000.
List of qualifying vehicles
AgPack Content:
Exclusive rebates on Michelin & BFGoodrich Tires – from tractors to
trucks to toys, over $4,500 rebate value available
25% off MSRP on Rhino Ag products PLUS a gift card valued between
$100-$200
Exclusive 5-10% below MAP pricing (lowest price a dealer can advertise), direct from Dixie Chopper on their
entire line of commercial mowers
$150 prepaid gift card from Viasat with a 2-year satellite internet subscription
1-year free subscription to AgriEdge, valued at $5,000
$2,000 toward he purchase of crop nutrition* from AgroLiquid, PLUS free soil test and one-year
consultation with AgroLiquid agronomist
$1,000 toward a new Reinke irrigation system and $500 toward parts on an
existing Reinke system
25% off MSRP on all Gallagher fencing, weighing, and EID products purchased
through gallagherusa.com (excludes water automation systems)
15% off purchases of Tarter Farm & Ranch Equipment
totaling over $3,500 MSRP before discount, valid only by contacting a Certified Ag Pack tarter
Representative by [email protected] (excludes 3 Point Equipment)
Exclusive after purchase rebates up to $350 on Eby Truck Bodies & Upfits
Exclusive after purchase rebates up to $1,000 on Eby Stock, Equipment, & Grain trailers
$500 product credit for future purchases of Mystik Lubricants after an initial $2000
purchase milestone is met; complimentary, lifetime oil condition monitoring on the purchased
vehicle. and Mystik-branded gifts upon acceptance of offer
$1,500 rebate on the purchase of a Walkabout Mother Bins plus a 20% rebate on accessories like a
scale, vibrator, display, low unload option, or an auger sock, plus a $500 gift card/store credit
for Outback Wrap Hydraulic hose products (Available on qualifying truck purchases after 1/1/2022)
20% storewide discount from Outback Wrap for their hydraulic hose identification and management
products (Available on qualifying truck purchases after 1/1/2022)
10% off Manufacturer's Suggested Retail Pricing for the entire line-up of PUTCO products plus free
shipping (Available on qualifying truck purchases after 1/1/2022)
Stack all of these benefits on top of any manufacturer incentives. (FCA, Business Link, CNH,
etc.)
To view all Terms & Conditions, click here.
Simply verify your ownership of, or in, an agricultural enterprise with us and you will receive great benefits!
"Appreciation for the needs of the agricultural community has deep roots within our dealership and the Ram brand. The Ram CAD program was built with input from educational experts, agriculture experts, and family farmers & ranchers. Posner Park Chrysler Dodge Jeep Ram FIAT can now offer the industry something more – a partnership that understands and adjusts to those needs at every level.
"The share of U.S. farms operated by women nearly tripled over the past three decades.
Using Census of Agriculture data from 1978 through 2007, this report provides detailed information about women farmers and the types of farms they operate."
Economic Information Bulletin No. (EIB-111). USDA. Economic Research Service.